I have received information and materials from ©Johnson & Johnson Consumer Inc. 2017.The opinions stated are my own. This is a sponsored post. #ForBetterTomorrows #BetterTomorrows #FallBack #CollectiveBias
I've had children for eight years, and for eight years, I've been tired. Don't get me wrong, it's a good kind of tired. But by the time bedtime rolls around (at an embarrassingly early hour for this 'frazzled' mama), my shoulders are tired from lifting kids in and out of car seats, my back hurts from what feels like constant driving, and my feet hurt from running around with a vacuum.
So I don't want my precious sleep time interrupted by minor aches and pains. And as most parents know, a good night's rest can make all the difference in how you handle the next day.
Which is why I'm giving my mom friends an easy-to-put-together sleep basket complete with a DIY felt sleep mask and TYLENOL® PM. Sleep should not be affected by aches and pains, right?
Hover over the image to purchase the product!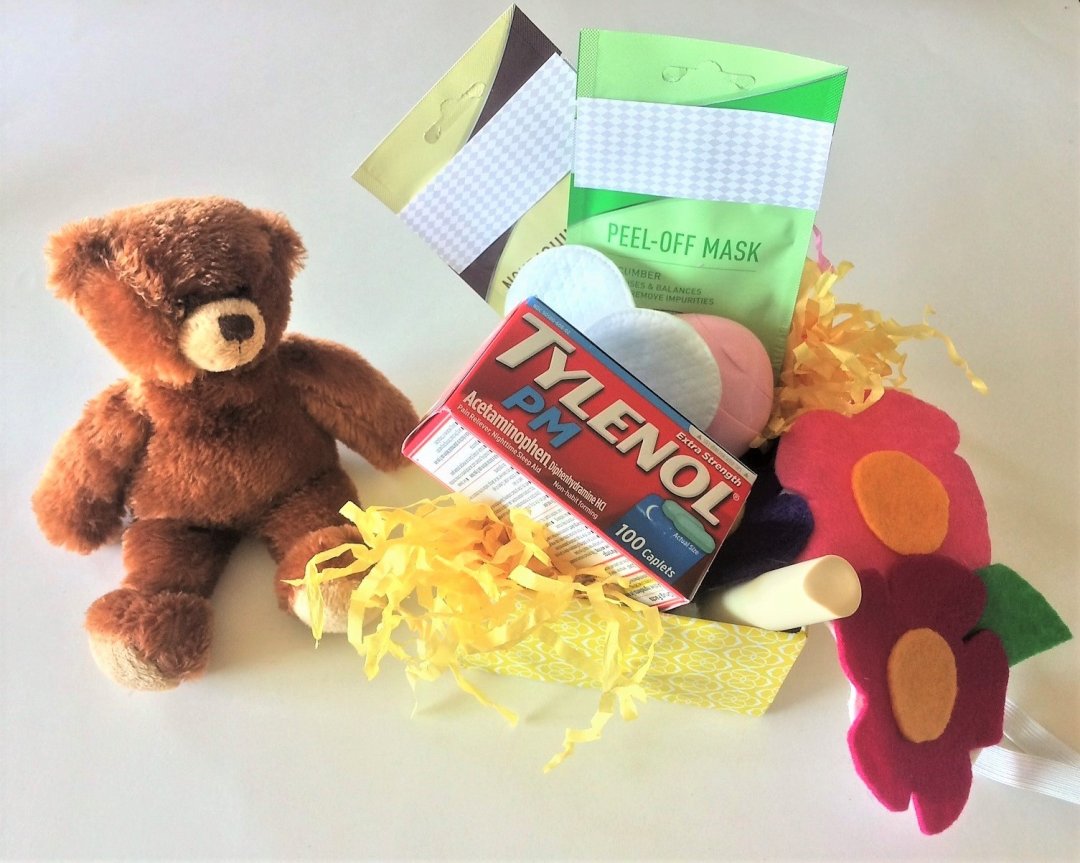 Sleep Gift Basket + DIY Easy sew Sleep Mask
There's nothing worse than waking up achy and cranky! Set the tone for an enjoyable night's rest with a good bedtime routine.
What to include in a DIY sleep gift basket
– Facial masks for at-home spa treatment
– Makeup remover pads
– Hand/foot lotion
– Lipgloss
– DIY sleep mask (see tutorial below)
– Teddy bear
– Box of TYLENOL® PM

TYLENOL® is collaborating with Walgreens to help treat sleeplessness as a result of minor aches and pains. Visit your local Walgreens in order to shop for TYLENOL® PM.
diy felt sleep mask
This super easy sew DIY sleep mask, made from felt, requires sewing in only one area. The rest of this sleep mask can be put together with a hot glue gun!
Sleep Mask Supplies:
– Felt sheets
– 1/2″ braided elastic
– Sewing scissors + straight pins
– Hot glue gun (or fabric glue)
– Sewing machine
Step #1:
Use the free sleep mask template to cut out the sleep mask shape in white felt. Proceed to cut three flower shapes from various colored felt, yellow flower centers as well as some green leaves.


Step #2:
Arrange the various flower pieces onto the sleep mask. Secure with hot glue or fabric glue.


Step #3:
Measure approximately 12″ of braided elastic + an additional 4″ on each side, depending on size of your head! Pin the elastic to the backside of the sleep mask. Sew in place OR secure with hot glue.

diy good night's rest sleep gift basket
Fill a decorative box with basket filler.


Arrange the good night's rest sleep items within the box.

Are you ready to snuggle up with your teddy, face fresh from an at-home facial mask, for a good night's rest free from minor aches and pains?


Be sure to use TYLENOL® PM only as directed on the product packaging to help with minor aches and pains for a good night's rest. Shop for TYLENOL® PM at your local Walgreens. I found TYLENOL® PM in the pain relief aisle.


For more information on TYLENOL® PM, please visit them on Facebook and on YouTube.
Other DIY Projects You May Like:

Do you follow me on Pinterest, Facebook, Instagram and Google+?
I would appreciate any social media love you can send my way.
TYLENOL® PM contains a pain reliever and nighttime sleep aid. ©Johnson & Johnson Consumer Inc. 2017 The third party trademarks used herein are trademarks of their respective owners.